What Happens If Your Competitors Use Your Brand Keyword?
You are the brand owner. Your brand belongs to you. And that's the way it should stay. But that's not the only reason why it is extremely important to keep others – so-called brand bidders – from using your brand keyword for their own SEA purposes.
There are many types of unfair competition and trademark violation in online marketing. Clearly, one of them is brand bidding. When a customer searches for your brand, he or she has already chosen your brand among a million others and is very likely to buy something. Especially, strong brand names easily convert search engine traffic into sales. Competitors, direct rivals, copycats or even your affiliate partners might exploit this strength and cause significant financial damage for you as brand owner. The bad news is: Brand Bidders have multiple strategies to hide their fraud. So most of the brand bidding cases will never be revealed. However, it is a common practice and almost everybody in SEA is affected.
Loss of Traffic and Sales
27% of website traffic is generated by search engines, of course, the majority of it comes from Google. In case a brand bidder uses your brand keyword in an ad, potential customers might also land on the third party website even though they were looking for yours. You loose traffic and eventually also sales.
Illegal Commission
If the brand bidder is an affiliate partner, you might not loose sales but you end up paying an unjustified affiliate commission for customers that originally have been yours just because your affiliate partner has misguided them through his own channels.
Increase of CPC
The more people use a keyword, the more expensive it gets to bid on it. Everyone is trying to outbid everyone else. The cost-per-click rate rises – unnecessarily, because it is your brand and thus also your brand keyword.
Reputational Damage
If customers look for your brand keyword on Google or other search engines, they expect to find a representative website of your brand. If brand bidders lead them to a low-quality alternative, they might be disappointed and loose trust in your brand. Eventually, they won't buy your brand anymore. Again you loose future sales.
How Does Brand Bidding Work?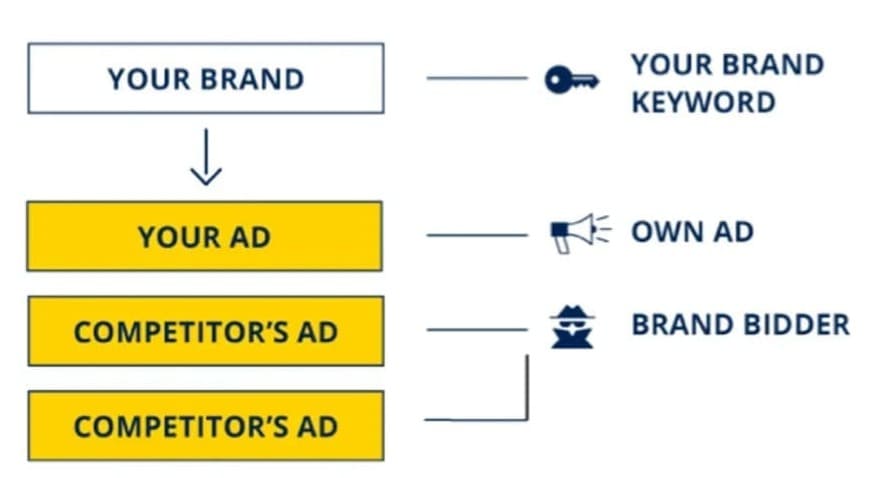 According to a court ruling of 2010, basically everyone can use your brand keyword in their own ad even though they are not the legitimate brand owner. A certain percentage of potential customers who are looking for your brand will be misguided and finally end up on third party websites.
There are different kinds of brand bidders who pursue different goals:
Competition
Commonly, competitors mislead your customers shortly before their  purchase and offer them their own products instead.
Search Arbitrage
Brand Bidders place more expensive ads that outbid your original ad. The result is an increase of the CPC rate. You have to invest a lot more money to keep up with the unjustified competition.
Affiliate Partnership
Usually, affiliates use brand bidding to earn more commission. They achieve that by misleading potential customers who were directly searching for your brand keyword and placing unjustified affiliate cookies on them.
Ad-Hijacking
The brand bidder, very likely your affiliate partner, places an exact copy of your ad and outbids you by just a few cents. Your original ad disappears. All your customers are now channeled through the ad of your affiliate and you pay a commission for customers that have been yours from the start.
Coupon Sites & Price Comparison Websites
Similar to affiliates, coupon sites and price comparison websites use your brand keyword to intercept your customers, mislead them through their channels and place an affiliate cookie on them.
Why Is It for You As Brand Owner or Online Marketing Manager So Hard to Detect Brand Bidding?
Technical Knowledge
In a fast-moving business like SEA, it is very hard to keep up with the current developments. Almost every day, brand bidders discover new gaps and possibilities how they can hide their scam. In addition, you also need specialized automated tools to be able to get hold of the masses of brand bidders worldwide.
Legal Knowledge
The legal ruling from 2010 basically stated that everybody is allowed to use brand keywords. It created the impression that from a juristic point of view there is nothing you can do. Fortunately, that's not true. But in order to take action against brand bidders, it takes special knowledge in trademark rights.
Brand Bidders Know Very Well How to Remain Concealed.
Brand bidders have a variety of strategies to hide in disguise. That's why the majority of infringements happen unnoticed.
Geo-Targeting
By placing their ads everywhere except the area where the brand owner's headquarters and the online marketing agency is located, brand bidders are very likely to be overseen.
Temporary Restriction
Deliberately, brand bidders place their ads on weekends and at night, when the brand owner and the online marketing agency are not active.
Misspelling
Direct type-ins are a very valuable type of traffic. In case the user types in your brand, he is very likely to buy something because he is deliberately looking for your brand. Yet, this kind of traffic is very vulnerable to misspellings. Brand bidders abuse this weakness and place ads intentionally on misspelled brand keywords.
Smaller Search Engines
Even though Google is the most significant search engine, there are other small and foreign search engines that are important for brand bidders because brand owners and online marketing agencies often neglect them. So the field is open for frauds. Examples are Ask, Yahoo, AOL, Bing, as well as Yandex (Russia), Baidu (China) and Naver (South Korea).
Cloaking and Dynamic Redirects
Another effective way of brand bidders to hide their identity is to use cloaking domains and dynamic redirects. That way, it is very hard to identify them because neither the website nor the source code give information about the brand bidders origin.
The Good News: You Can Do Something About It!
Even tough it is almost impossible for you as brand owner or online marketing agency to detect the majority of brand bidding incidents, there is something you can do. You can call for expert help.
At AdPolice, we have been dealing with brand bidding since 2008. We have the expertise as well as the technical knowledge and tools to reveal brand bidders. Plus, we are working together with law firms specialized in trademark rights. That way, we can help you take action against the fraudsters also on a legal level.
Brand Bidder Management for higher SEA profitability
AdPolice offers an efficient combination of tool and action model to tackle Brand Bidding.
Step 1: Create full SEA transparency
AdPolice BrandWatch covers the activities of competitors and fraudulent affiliates, also recognizes adhijacking and geotargeting and documents every infringement.
24/7 disclosure also at night and weekends
Comprehensive infrastructure to detect regionally restricted ad campaigns
 nationwide
Ongoing queries every minute
Internal affiliate fraud records data base worldwide
Detection in small search engines (Yahoo, Ask, etc) and in important foreign search engines (Yandex – Russia , Baidu – China, Naver – South Korea, etc.)
Monitoring of misspellings
Step 2: Systematic Brand Bidder Management
The AdPolice Brand Bidder management is integrated directly into BrandWatch and forms the whole Process,
from the infringement evaluation to the powerful communication and communication technologies Automation
tools in a clear Web front-end.
Entire transfer chain detection including partner ID
Identification of brand bidder despite cloaking domain and liquidation of domain
Affiliate network reporting
Repeat fraud surveillance
Success reporting
Now take the first step to get your brand back
We help you protect yourself from free-riders and your SEA profitability significantly. We would be glad to provide you with an individual offer to take over selected cases or the complete BrandBender editing.