We protect your paid search
Our tool stops abuse by affiliates, resellers and competitors.
We protect hundreds of the world's largest brands:
We solve these problems
AdPolice BrandProtect is a highly specialized tool which is specialized in solving the following problems:
Brand Abuse
Defend yourself against the online abuse of your brand and use our automation services to remove unwanted brand names.
Affiliate Fraud
Put a stop to affiliate fraudsters and unmask even complicated technical fraud variants
Reseller Fraud
As a manufacturer, prevent partners from stealing sales from you through unauthorized procedures.
Competitor Violations
What do your competitors actually do with your brand? Respond quickly and effectively to unwanted competition activities
Complete worldwide coverage
20+

search engines
and platforms can be
monitored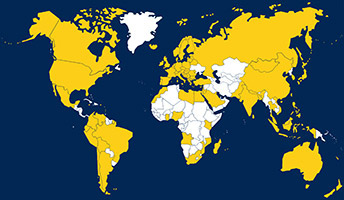 107

countries
covered by own
infrastructure
Uncover how AdPolice can benefit your campaigns
Take a look at our case studies, which prove the successful cooperation with our customers:
Our smart tools - efficient and time-saving
Our additional services offer maximum automation options for your processes at the touch of a button:
SEA Auto Takedown
Click and go: Report abuse cases to search engines at the push of a button
Affiliate Auto Takedown
Click and go: Report affiliate fraudsters to affiliate networks at the push of a button
Reseller Auto Takedown
Discover non-compliance with brand protection guidelines and report dealers at the touch of a button
Brandbidder Management
We'll get them all! Get brandbidder to takedown by multi-level cover letter
Features
Smart Keyword Optimization
Smart Scan Attribution
Personal Expert Research
Premium Data Quality
Preconfigured APIs
Custom APIs and Workflows
Automatization Engine
Global Accounting
Import Custom Data
Client- & Team-Capable
Legally Secure Documentation
Brand Protection solution
Multi-channel brand protection monitoring and editing
Search
Monitoring of more than 500 different search engines in over 130 countries. Coverage of local market leaders and smaller, highly fraud-prone niche search engines.
Shopping
Monitor the major marketplaces of Amazon and Google Shopping in over 100 countries. Detect unauthorized product uses and unauthorized resellers.
Social
Monitoring your brand and product names in social media channels to identify unwanted affiliate activities, negative names and other unlawful actors.
Domains
The monitoring of all brand-relevant domains including typing errors for over 700 top-level domains worldwide to detect affiliate fraud through third-party registrations.
What our customers say:
"AdPolice BrandProtect, especially in combination with Search Compliance. Center will have a massive impact on the Reduction of our brands CPCs in search engines and therefore also overall on our Budget Spent in Germany. AdPolice has provided us with the service very and thus a positive impact on the on the budget allocation."



Dr. Korbinian Spann
Global Digital Marketing
W. L. GORE
This website uses cookies
We use cookies to personalize content and ads, provide social media features, and analyze traffic to our website. We also share information about your use of our website with our social media, advertising and analytics partners. Our partners may combine this information with other data that you have provided to them or that they have collected in the course of your use of the Services.
Read our cookie policy